C8-PRO REFORMER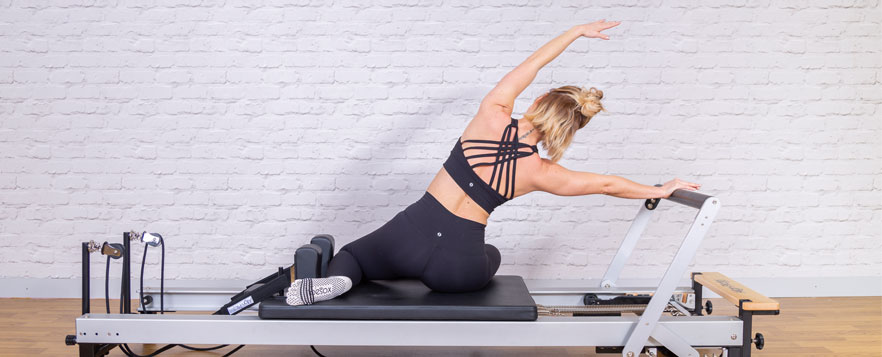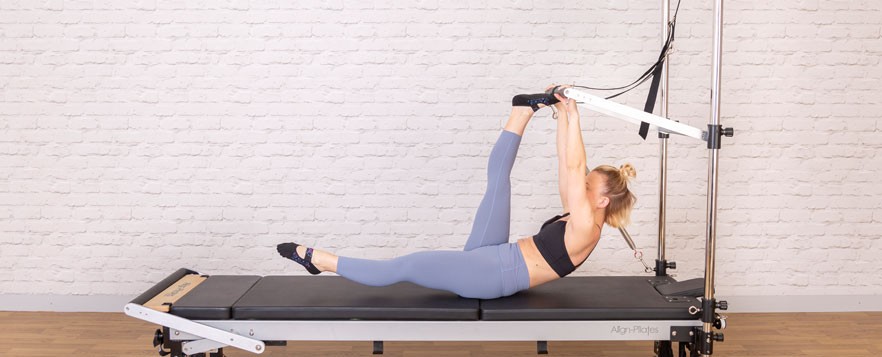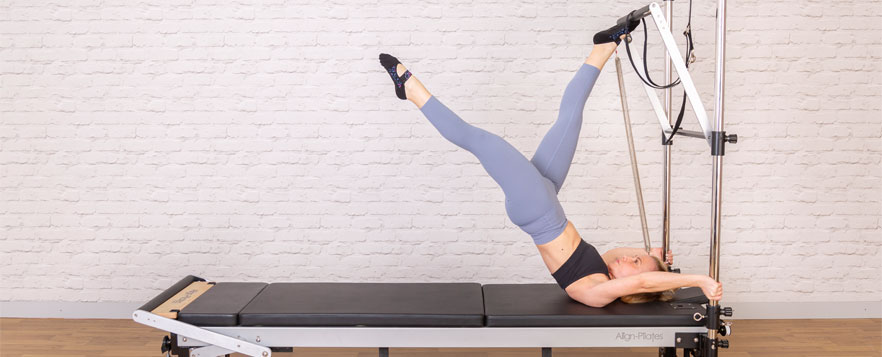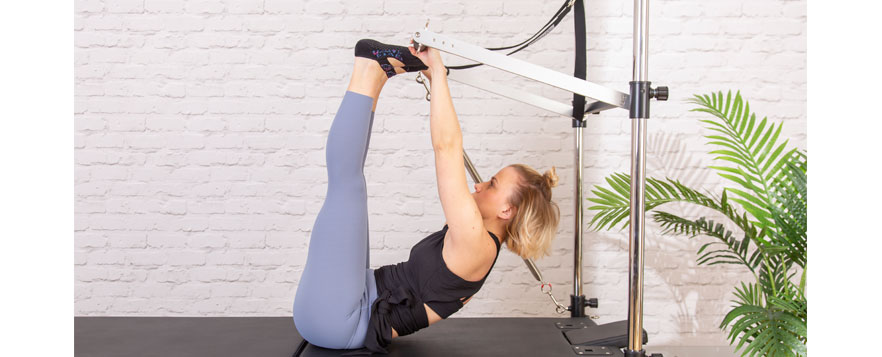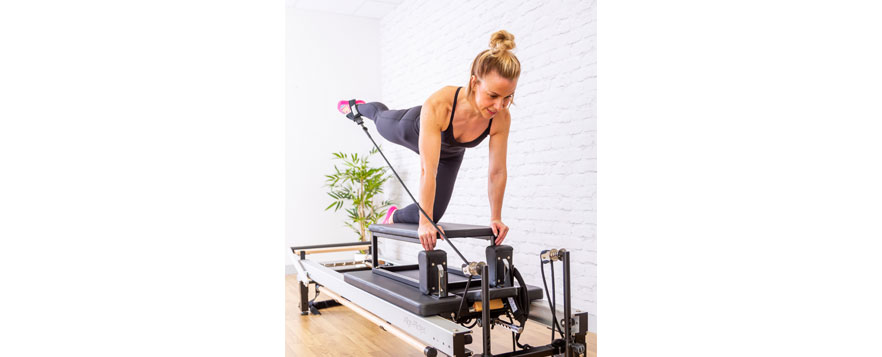 C8-Pro Reformer
$3,200 CAD | $2,550 USD
Starting at $162.11/mo with

. Prequalify Now
CONTACT US TO ORDER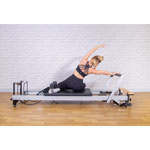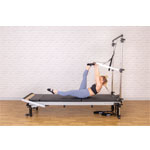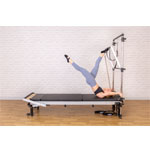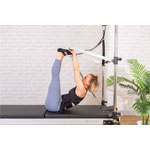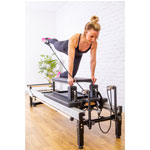 The C8-Pro is the ultimate C Series reformer, featuring an oversize aluminum profile & foot bar and all new 8 PU wheel carriage system for the quietest and lowest maintenance ride available. Like all 2020 Align-Pilates commercial reformers the C8-Pro features our new patent pending Rapid change (RC) spring bar for the easiest and quickest adjustment on the market.
C8-PRO REFORMER
Features
Many Pilates professionals choose their reformer based on the ride characteristics and the biggest determinant of that is the number and type of wheels. The C8-Pro features 8 wheels which are designed to give a quieter and softer ride. As it's easy to store/stack, this is perfect for any Studio looking to save space!
COMPARE REFORMERS
Specifications
Class leading 106.5cm of smooth travel Class-leading travel – 106.5cm
Large and comfortable carriage bed Large & comfortable carriage 92cm x 58cm
8 Wheel PU System Improved anodized aluminium runners with a 8 PU wheel carriage for super quiet and maintenance free ride
Oversize & 4 Lockable foot bar positions Oversized foot bar & lowered pivot point for extra solid feel. Lockable foot bar with 4 positions
including flat
Patent Pending Rapid Change Spring bar Patent pending rapid change spring bar for the fastest spring bar changes available, using one hand
and a single action. Watch features video ►
Quick and easy rope adjustments Rapid rope length adjustment system that adjusts both ropes simultaneously, with 7 rope length variations
Choice of 2 Leg Heights Choice of heights, either standard 26cm height or, 44cm with optional leg extension
Adjustable Shoulder and head Rests Improved 3 position headrest. Removable & lockable shoulder rest with new off-centred shoulder pads to give a choice of two widths.
Adaptable with Full & Hall Cadillac options The C8 is compatible with the Half Cadillac and Full Cadillac
Space saving- can stack/stand & be wheeled Space-saving – The C8-Pro can be wheeled for ease of movement and storage, it can be stacked and can "free stand" when selected with either the optional free standing feet or the extension leg option
Commercially Warranted Light commercial warranty 27.5 hours per week (this applies to all Studio reformers)
REFORMER BUNDLES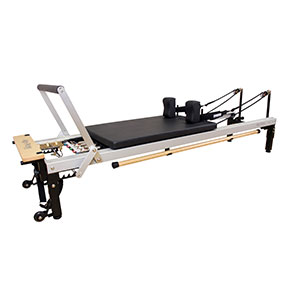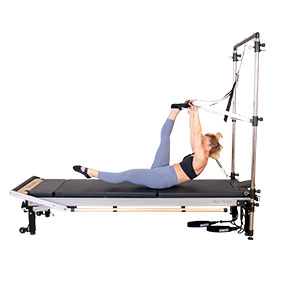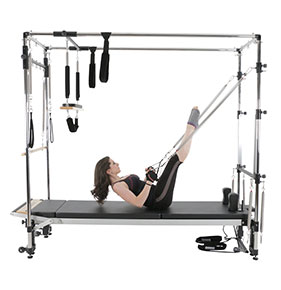 Frequently Asked Questions
What's included in my C8-Pro Pilates Reformer?
The C8-Pro includes all Springs, Ropes & Handles to enable you to practice straight after the assembly of the Reformer. All of our commercial Reformers also come with a free Foot Strap as standard.
What is the Rapid Change (RC) Spring bar and how does it differ from a normal spring bar?
The Rapid Change RC Spring bar is the new patent pending Spring bar from Align-Pilates. A traditional spring bar is used in conjunction with a separate carriage stopped and this can take up to 12 actions to change on a 5 spring reformer. The RC spring bar features integral carriage stoppers and is adjusted with the springs attached, it can be moved with one hand in a single action saving 3 to 11 additional actions every time you move the spring bar. The RC spring bar is a game changer in group reformer classes and it also prevents incorrect carriage stopper positions and the possibility of leaving your springs in a stressed position, which will reduce their life and performance. Watch video here!
What accessories can I have with my C8-Pro Pilates Reformer?
Gondola Pole – 60″ / 32″
Platform Extender
Leg Extensions (raise bed to 44cm)
Freestanding Legs
Jump Board
Sitting Box
Planking Handles
Half Cadillac
Mattress Converter
Full Cadillac
Neck Pillow
Can I purchase my C8-Pro Pilates Reformer with a different leg height?
Leg extensions are sold as an extra accessory for the C8-PRO
What are the benefits of the different leg heights on the C8-Pro Pilates Reformer?
There are multiple considerations about getting the right Leg Height for you and your clients. Whilst primarily it's a preference, you may wish to consider people's comfort on sitting on a low leg Reformer vs. those sitting on a machine higher off the ground. Furthermore, if you or your client will be doing standing exercises, the user may feel more at ease performing lower to the ground. As standard all A & C series Reformers are supplied in low-leg form, but each has the ability to raise in height, at any time, should you require.
Do you offer Cadillac bundles with the C8-Pro Pilates Reformer?
Half Cadillac and Full Cadillac (along with their brackets) are add-ons available for C8-PRO
What exercises can I do on the C8-Pro Pilates Reformer?
subscribe to our YouTube channel: Align Pilate to find inspirational exercise videos from our customers.
What are the dimensions for the C8-Pro Pilates Reformer?
Reformer only – 239.5 (L) x 66 (W) x 26cm (H)
Reformer with Leg Extensions – 239.5 x 66 x 44cm
Standing height for storage – 240cm
Weight – 59kg (GW)
What's the max user weight for the C8-Pro Pilates Reformer?
Is the C8-Pro Pilates Reformer the best reformer for me?
The C8-Pro offers the smooth silent travel, that can be found in the M8 Pro and A8 Pro, whilst offering the compactness of the C2 Pro RC. A hybrid of these 2 key components means it's a fantastic choice for Studios & Gyms looking for a versatile Reformer with leading performance specifications.
How will my Reformer be delivered?
As standard all of our Reformers are often delivered on a pallet and therefore must have suitable access for van or lorry deliveries. Some assembly is required but you can find detailed instructions both in the User Manual Page and on our YouTube Channel.